Allllright! You've gotten this far :-)
Now you're actually going to learn some Aramaic words, after a small discussion on nouns, themselves.
Aramaic, like Hebrew, has words with two genders. Masculine, and Feminine (no Neuter as found in Latin and Greek). The genders are assigned, it seems sometimes, with no reguard to actual gender (INSERT EXAMPLES).
Aramaic Nouns also have three forms: Emphatic, Construct, and Absolute.
The form that you'll need to know the most about is the Emphatic (just a big word for INSERT WORD HERE) which is the form of the word that you'd look up in a dictionary (provided you have an Aramaic dictionary :-) ). Since nouns can be masculine or feminine, and singular or plural, we have four endings for them:
| | | |
| --- | --- | --- |
| Emphatic: | Masculine | Feminine |
| Singular | -ܳܐ (-a) | -ܬܳܐ (-ta) |
| Plural | -̈ܶܐ (-e) | -̈ܳܬܳܐ (-ata) |
COMPARE SCRIPTS
NOTE: Sometimes the Taw in the feminine plural is asperated (making it -̈ܳܬ݂ܳܐ (-atha) )
Notice the two dots in the plural forms above the letters? They are called "Seyame" dots. Back when Aramaic was written without vowels, they were invaluable for determining what was singular and what was plural. As you can see, the singular and plural endings are spelled with the exact same consonants (only the vowels differ!), rendering singular and plural nouns identically spelled.
Now that we have vowel markers, this is no longer such an issue. I like to keep them in there, however, for it makes plural forms easier to spot in writing.
With this in mind, here are your first four nouns!
| | |
| --- | --- |
| Word | Definition |
| (risha) | "beginning" |
| (Meshikha) | "Messiah" |
| (bra) | "son" |
| (Élaha) | "God" |
COMPARISONS:
EMPHATIC: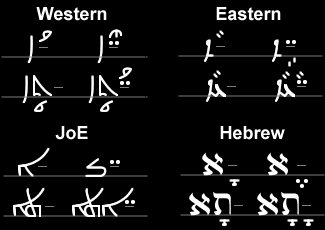 UNDER CONSTRUCTION!
(I'm working as fast as I can! :-) )